Being my sister's birthday, July 25th has always been a memorable date.  But on that date of this particular year one of my dreams came true…
The whole experience is sort-of-a blur to me now, and even at the time it had a surreal feel.  But I still have tiny bruises from pinching myself so many times, as well as the photos ribbons & prizes that prove it was not just a dream; but, a Dream-Come-True.
The Dream-Come-True was bittersweet…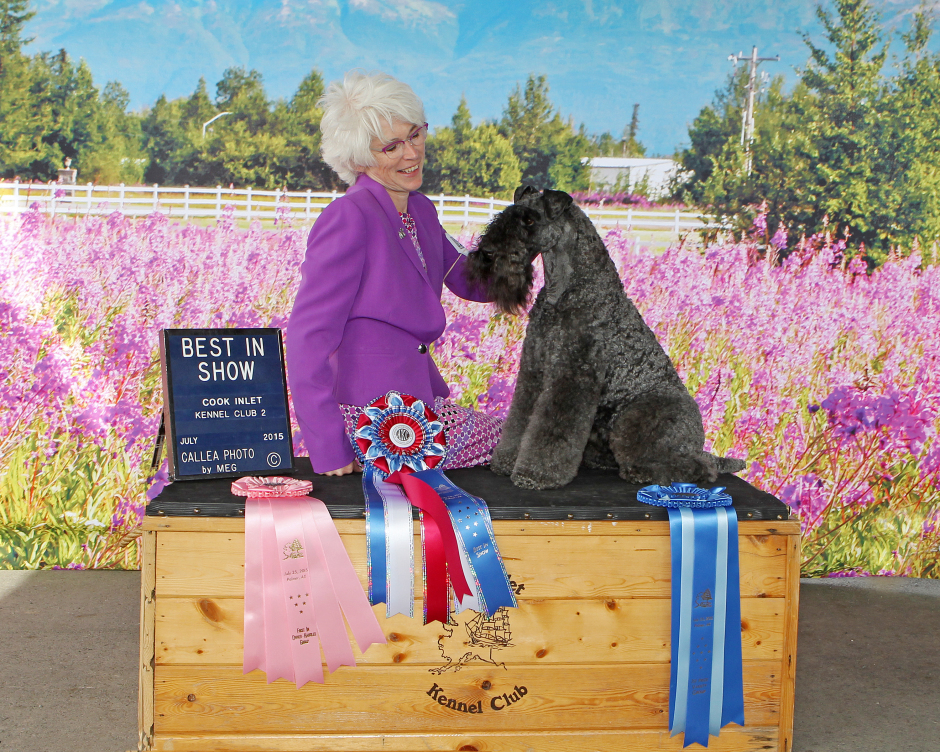 Sharing The Dream-Come-True …with you!  It is my pleasure…
It is my pleasure to share this Dream-Come-True with breeders Jana Deaton and Lois Grier via Timothy D Johnson.  Thank you both so much for your hard work and dedication to our breed, and for entrusting me with this wonderful dog.
So too, this Dream-Come-True is enthusiastically shared with my dear friend Christie Simantel-Janusiesicz who has selflessly found mentoring-time for us in the midst of life-its-own-self,  without whom Ms. Two-Left-Feet (not mentioning any names here) would never have made it around the conformation show ring.
It is also fitting and proper to share this Dream-Come-True with Lynda Barber-Wiltse, another dear friend and a dedicated canine-sports performance guru, who has provided invaluable insight into the human-canine relationship.
It was a pleasure to share The Dream with all the exhibitors and spectators on the day of the event.  Your support was overwhelming!
MANY THANKS  …to the Cook Inlet Kennel Club for hosting this spectacular event,  …to Meg of Calleafoto for the photo memories,  …to Jeanne & Roger Hale for the NOHS Terrier Group 1 Gifts,  …to Carolyn & Tom Tolson for the Terrier Group 1 Gifts,  …and to Debi & Tim Okonek for the generous Best In Show "Trophy".
A BIG SHOUT OUT TO JUDGE DANA P CLINE who definitely made our day!!!
Lastly, but never least, Stirling & I share this Dream-Come-True with Mark and the rest of the pack without whom there would be little point.  I Love You!