New England was the place to be for snow this year. The folks back home in Maine got hammered. Our winter in Anchorage was perhaps the mildest on record. Snow was in scarcity, though we had frozen ground and more than our share of ice. Being a big fan of snow, this was a bit of a disappointment.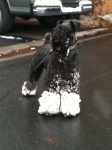 After having struggled with "break up" for at least the past month, this morning we woke up to a light covering of snow. Temperatures well above freezing make for New England snow, which is quite a lot stickier than our arctic feather-light variety.
It's not easy to walk in snow boots!