So we are off to Purina Farms, our first time out as a special with KBT competition. We will be joining Lois Grier of Krisma Kerries, who is a top notch breeder-owner-handler exhibiting two outstanding specials from what I believe to be her best-ever litter; that would be Xcstasy and her brother, the audacious Xavier.
We also know the Luebbers, who are also part of the Krisma family, are joining us with their seasoned special Finn and their fast rising special Reagan.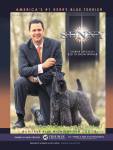 Now rumor has it we will show with Leonardo Garcini. We met last year at Purina, though Leonardo wasn't campaigning a KBT special at that time. Leonardo is a wonderful man, and a highly respected professional favorite. I have not seen the particular bitch that he is campaigning this year, but being of the top terrier handlers I know he wouldn't agree to show anything but the finest.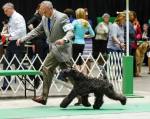 Another rumor has it we may also play with another pro handler, Celso Schneider, who is campaigning "Bruce" aka "The Stallion Kerry Blue Terrier".  Think about that: "The Stallion".  Holy moly! …Is that meant to sound a tad intimidating?
And we are anticipating three class dogs and one class bitch, as well as one other bitch special, yet to be known or even rumored about.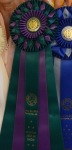 Rumor has it that Stirling may have about as much chance of victory over this competition as scoring …well, I don't know… how about, a reserve best in show?